What do I miss about back home.
I've been in Korea since… ahm… May. Which isn't long. The first few months where all about the adventure. Naturally, I missed my family and friends but i threw myself into the joy of being away.
There are, on occasion, somethings that just burn into my mind- that I want, nah, need but I can no longer have. Some of you will think… hmmm yes and other will think,'what the hell is this?'
If there's something here you think you might like – try it.
Sausage roll baps. 
Look at it, in all it's glory. It's a sausage roll put into a buttered bap. It HAS to be buttered.
You've also got to add either red sauce
or
brown sauce. Not both- that's just weird.
http://www.dailyedge.ie/sausage-roll-2205308-Jul2015/
Derry/ Londonderry (I don't care what you call it) is it's spiritual home and serves many purposes – the hangover cure, the quick breakfast or the cheap lunch two days before payday. You know you're poor when you're rifling through the penny jar looking for change for a couple of sausage baps. Are they good for you?
No.
They're like a well wrapped heart attack covered in sauce BUT they are lovely to eat.
Irish sausages.
If you're not salivating looking at these sausages, there's something severely wrong with you and we can never be friends. I'll say hello to you at a party or something but you'll never get close, you don't deserve it.
Korean sausages are not the same. They're…they're just not.
A full Irish breakfast.
Now, I consider an Irish breakfast much have the following items:
Sausages; bacon; eggs; mushroom; black pudding; white pudding; soda farl; tomatoes; baked beans; toast, tea and, bread & butter.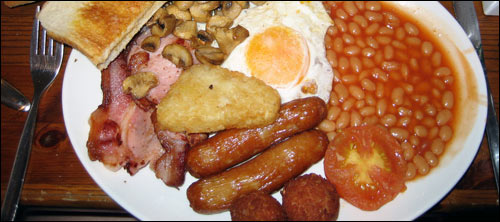 Notice the sacrilegious hash brown in the picture. It's an Irish breakfast traitor.  Some people sliced, cooked fried potatoes along with it and/ or hash browns.
Those people are

Pure and simple savages.
Some people don't know what black pudding is: Black pudding is a type of blood sausage commonly eaten in Great Britain, Ireland and in other parts of Europe. It is generally made from pork fat or beef suet, pork blood and a relatively high proportion of oatmeal, in some recipes mixed with oat groats and sometimes even barley groats.
White pudding is: White pudding or oatmeal pudding is a meat dish popular in Ireland, Scotland, Northumberland, Nova Scotia, and Newfoundland. White pudding is similar to black pudding, but does not include blood; it consists of pork meat and fat, suet, bread and oatmeal formed into a large sausage
The above picture is simply heaven on a place.
Crisps.
Of course Korea has crisps and lots of them. Some are utterly gorgeous but they don't have this:
And that's just wrong.
I miss simple things like not being able to go around and visit my family for a cup of tea. We always have Sunday lunch, which is basically them taking the proverbial out of everyone but I do miss it. That and not catching up on everything that's going on. Little events pass you by… a first date, wedding, funeral, a quick pint and meal at lunchtime. It's silly but it's those little things that bond us together.  So I miss meeting my mate at lunchtime and having lunch and a pint. It's delightful.
I'm not in anyway down at the minute but sometimes we feel a little nosalgic and it helps to sometimes wallow init for a while. Next time – things that truely rock in Korea.
Thanks for reading,
R.B